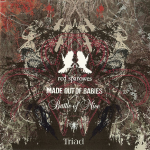 I knew Triad was going to be unusual before I even heard it. It had six songs on it; two from each band. The cover looked interesting, too, consisting of a nice blend of grays and reds, and it was mirrored down the middle. The CD was entirely black, but had a textured design on it.
The Red Sparowes have the first and last track on this compilation. They have longer song titles than Fall Out Boy, but at least they're not corny. "Alone And Unaware, The Landscape Was Transformed In Front of Our Eyes" and "Buildings Began To Stretch Wide Across the Sky, and the Air Filled With a Reddish Glow" were both live tracks, but you could hardly tell because they were mixed without an audience track (and since they have no vocalist, they didn't have a microphone to capture even the slightest bit of audience sound). They are the most progressive songs from the set, and offer the listener quite the musical journey.
The second and third songs were by Battle of Mice, a female fronted alternative, progressive, heavy rock band. The songs "Sleep & Dream" and "The Lamb & The Labrador" are both studio tracks, but are listed as edits; probably shorter versions of the tracks found on the album. Both songs feature some unusual dark lyrics, vocals, and interesting drum patterns. There is a nice variety of guitar tones that really round off the songs well, and could not be pulled off by many bands.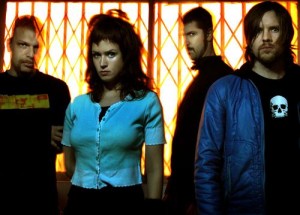 Made Out Of Babies has the same lead singer as Battle of Mice, but there were some considerable differences. "Proud To Drown" and "Gunt" still have the flavor of Julie Christmas's unique vocal styles, but the band uses less guitar effects. There are occasional backing vocals and a little more distortion on the guitars than Battle of Mice.
It was a good set of songs overall. At times it would get droning, but due to the lack of repetition in the songs, you wouldn't hear the same dull part in the song again. It reminded me of The Mars Volta at times, but these bands have surely made musical innovations of their own. Triad offers a collection of dark progressive rock samples that doesn't confront you to too many bands at once and could introduce someone to the sub-genre without overwhelming them.