Written by Steve
As "Careful", the opening track to Brand New Eyes played, I braced for another Paramore style album; an album full of young female pop vocals that sell a sub-par pop-rock band's studio tracks. Throughout their career, their album material has mostly just bored me. Their B-sides and some demos have been the only thing that have kept me coming back when they put some new music out.
The next two songs didn't improve my opinion of the band's creativity, but Hayley Williams certainly improved her songwriting and singing. For example, there's an anger in the vocals that hasn't been heard from her before, and it's not just coating the entire song; it comes in at the right points, which tells me she's writing songs with more emotion now.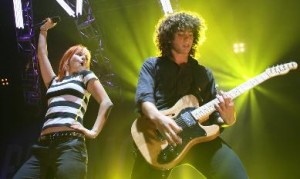 "Brick By Boring Brick" and "Turn It Off" actually had more experimenting in the instrumental tracks than I had expected to hear at this point. It was refreshing to hear that, sort of. They were clinging on to their distortion-driven riffs, and that has always plagued their songs. "The Only Exception" was a first as far as songs on Paramore albums go; a fully acoustic track. It sounded very nice and like something they should do with their music more often.
"Feeling Sorry" brought an end to the instrumentally creative cluster of the album. "Looking Up" was another average fan pleaser song, and although "Where the Lines Overlap" had some chimes or some high synthesized notes that accented the song well, it just wasn't enough to break away from the "average Paramore sound".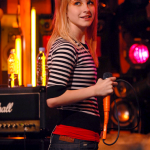 The last two songs on the album, "Misguided Ghosts" and "All I Wanted", were quite a surprising way to end the album. They are almost what I had been hoping the band would produce for quite a while now. "Misguided Ghosts" has some excellent acoustic guitar playing, and "All I wanted" had some amazing vocals coupled with guitar work that had some nice tone to it, and it steadily grew as the song progressed; something I don't recall them ever trying out until this song.
Overall, it probably won't be getting Paramore any new fans that hated them before this album, but it's a step in the right direction for the band. Their music is starting to mature, and it looks like their fans will have a band to grow up with.
Their B-sides for this album mostly consist of acoustic versions of songs on the album. "Decode", however, was an original song, and it had a better guitar tone than all the songs on the album; that sort of "hiding the more experimental music" seems to be typical of Paramore. Most of the tracks were more musically diverse when recorded as an acoustic version, and they seem to have much more replay value. The band seemed to have spent more time on this album's acoustic tracks than on previous albums. They still retained the structure of their originals, and possibly even the tempo and some vocal tracks. They probably could have thrown in a demo or two like they did for the MVI version of Riot!, but five studio acoustic tracks is quite a feat for most bands. It's a decent set of tracks.