When you see the cover, title, and band name of this EP, odds are you will immediately make assumptions about the music that are indeed correct. Single File's No More Sad Face is a semi-pop rock emo EP. While their genre and look isn't very original, they dabble into creativity with every song in this set.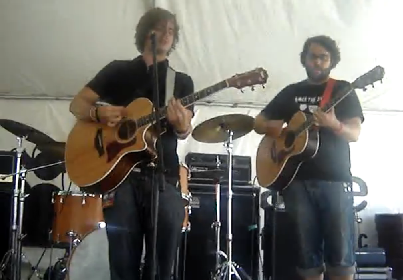 When you look at the first song, "Zombies Ate My Neighbors", before you listen to it, you'd probably think "That's just one of those dumb song titles that have nothing to do with the song." and consider giving the record back to the chump that gave it to you. On the contrary, the lyrics in the song are actually about a zombie attack, and they somehow manage to not be too corny. The chorus is quite catchy and there's a slight story to it.
"Velcro" starts off with about five seconds of studio banter that the band thought would be great to hear every time you listen to it. This song is a lot less impressive than the opening track, but it's the only other song with a really catchy chorus. The lyrical content of this song makes it hard to connect to unless you're around the age of 16 and regularly listen to this sort of music. It's not strictly dedicated to that, but it would really help to fit into that category if you want to fully enjoy the song.
The next song is the softest on the EP. "Melody of You" is one of the better semi-acoustic tunes from this genre, and fits well on this point of the EP. There's and interesting use of stringed instruments, including a somewhat jazzy stand-up bass. Despite being the slowest song in the set, it also ended up being the shortest.
If all of these songs had the lyrics removed, "September Skyline" probably would have sounded the best. The lyrics and vocals aren't bad, but they distract from the guitar and drum playing. The ending of this song seems too abrupt to be an and to any set of songs, but they only had four songs to work with, and the order was great as is. The drum playing stood out quite a bit for this band. Not like, say, that of Alex Van Halen, but none of the songs had simple beats that tend plague this genre and a lot of modern rock in general.