Mac Davis: What was your first feeling about the album on listening to it for the first time?
Steve Brand: I was hoping for something better, to be honest. It felt like it was missing some really catchy guitar riffs.
Mac: I felt like the entire thing sucked balls, and I've always been so "I love Muse".
Austin R: I thought it was amazing. So far this is the only album where I like all the songs on the first listen, except for "I Belong to You". I hated that one.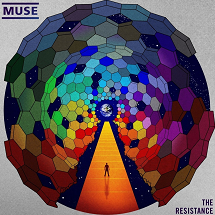 Mac: I felt betrayed, but I didn't want to tell anybody because they'd say I wasn't a true fan. Every other album I would listen to every song but one. For The Resistance, I now only really like one song.
Austin: which one?
Mac: "Exogenesis" Part 1. I love it.
Austin: I love the whole of "Exogenesis".
Mac: I think it is very similar to "Blackout", from Absolution. String atmospherics, long moans from Matt, and epic kinda-slow guitar solo
Steve: "Exogenesis" was something I was expecting more out of, too. I heard Bellamy was working on it for years, and I was expecting some long, mind-blowing arrangement with some guitar along side it.
Mac: Yeah, but "Exogenesis" definitely didn't let me down. Just because it's a long time doesn't mean it's good.
Steve: Yeah, it's not a bad song/set of songs, but there was hype to it before it was released. I probably would have found it quite impressive had it not been for that.
Mac: I think they were all kind of disjointed. I like albums like Absolution; All the songs kinda go together, even though there are so many different instruments and sounds.
Austin: With a central concept?
Mac: With a musical sound that flows all the way through, yes. "Uprising" is so different from the rest of the songs. "Exogenesis" as well. "United States of Eurasia" would go with "Exogenesis" in style, if it were not for the humorous chorus.
Steve: The Resistance did kind of feel jumpy. It felt like a well-performed B-side compilation.
Mac: It's like they threw together a bunch of songs instead of making an album.
Austin: It's more lyrically linked than anything.
Mac: Oh, perhaps. It's very possible there was some storyline in his head.
Uprising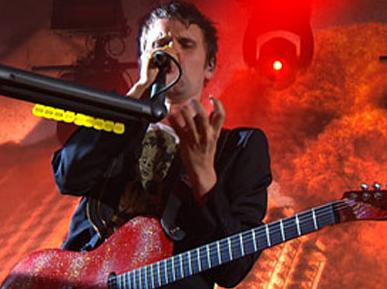 Mac: I don't know if we could say anything about it that hasn't been already said. Probably most discussed track. It's cool and poppy. A lot of people can chant it and feel good. It has nice synth-bass goin' on.
Steve: It's a good choice for a single. There are some backing vocals during the guitar wail sometimes that sounds like "so come on" that I didn't really like.
Mac: I was surprised that he could sing it the way it was on the album. When I watched it on the VMAs it was exactly the same. Pretty simple song.
Austin: I believe that the entire intro was very catchy. Dr. Who synths, thumping bass, good ryththm. It sounds like it'll be a good song for live performances. I think every song on here would be. Muse just does them so well
Resistance
Austin: The only thing that bothered me about the song was the pre-chorus. I eventually came to like it, though.
Mac: "Resistance" kinda feels like the real beginning of the album, with "Uprising" only fitting lyrically, as you put it. Resistance feels like the beginning of a Muse album. I really liked the piano riff.
Steve: I really liked the drumming at the beginning. The catchy element of the drums leaves for most of the song, though.
Austin: If they kept the song at the same tempo as the verses. This would be my absolute favorite. The pre-chorus is just a bit too much of a leap
Mac: How's that go? "It could be wrong, could be wrong"?
Austin: yea
Mac: Oh, I always hate when bands do stuff like that. I would have been much more satisfied if that was completely removed and there was just more emptiness. Also, there's a backing vocal atmospheric track during that pre-chorus I don't like so much either.
Undisclosed Desires
Steve: I'm finding myself liking this more and more with every listen. The lyrics feel a bit corny at times, though.
Austin: It's the anti-muse song. Chris playing slap, Dom using a drum machine, and Matt NOT playing an instrument. The song is a bit too "R'n'B" for my tastes but it's a good change of pace.
Mac: When it started, I was thinking "holy shit, it's R'n'B".
Steve: I wonder if they change this song up a lot when they play it live, or if they even intend to play it live at all.
Austin: I think Matt plays a keytar for this live.
United States of Eurasia (+Collateral Damage)
Austin: Queen, Highlander, Lawrence of Arabia.
Mac: I love the intro. The piano on this track is my favorite on the album
Steve: I'm stuck between this one and "Guiding Light" as my favorite from this album.
Austin: The "sia"s took a bit of getting used to.
Mac: I really liked the Arabic influence on the piano and drums in the lead up to the midsection, and then again. Whatever that's called… Interchorus?
Steve: Oh, yeah, those high notes were a bit goofy at first. It was one of those things done for musical purproses, rather than bringing out a certain part in the vocals.
Austin: Yeah… They just sounded a bit alien at first. All of the background noise in the piano solo was a nice touch.
Mac: Yes, expertly done.
Steve: Yeah, the flyover was a nice way to end it.
Austin: And a nice transition.
Guiding Light
Austin: I think Dom's drumming on "Guiding Light" was very good.
Mac: The guitar solo in "Guiding Light" was probably the best on the album. Sounded like it was out of an 80s arena rock song.
Austin: But it was one of like, what, 3? The solo sounded very reminiscent of a Queen solo.
Mac: Ah, quite so.
Steve: There were a lot of elements in this album that seemed Queen-inspired.
Austin: I think I saw somewhere where someone had called this song the "Invincible" of The Resistance, and alot of things were 1984 inspired, too.
Mac: I enjoy this song because it gives me some kind of color. This song is very gold.
Austin: it's one of those songs where you feel good after hearing it.
Unnatural Selection
Austin: Best live performance potential.
Steve: I think it had the weakest lyrics on the album. Musically fantastic song, but the lyrics weren't as complicated or descriptive as the other songs.
Austin: I think that this song will end up being a massive fan favorite.
Mac: "Unnatural Selection" is going to be great if they put out a second HAARP. All these songs are.
MK Ultra
Steve: Another great Muse song intro. The guitar tone is great.
Austin: The lyrics are almost like calling out an oppressive leader.
Steve: The "They're breaking through" section of the song seemed to be dragged out too far. It would have worked had they written more than just "They're breaking through" for that part.
Austin: The fast part after that seemed a bit thrown in, too. This song seems more like an "Assassin" sequel than anything.
Mac: What? "MK Ultra"? I don't get that at all.
Austin: I mean in terms of riffs and stuff like that.
Mac: "Assassin" was really hard and in your face. I don't get that at all from "MK Ultra". Even the parts that are supposed to be like that.
Steve: Yeah, I don't see how it sounds like "Assassin", either…
Austin: Maybe it's just me then.
I Belong To You (+Mon Cœur S'ouvre à ta Voix)
Mac: "I Belong to You" DOES sound like a past song though, and it's probably on there for the same reason. Well, maybe it doesn't so much, but "Feeling Good" was put on the album for his girlfriend. Special version, yo, and dedicated.
Austin: "I Belong To You" was the weakest in my opinion
Mac: I thought it was about equal. It's just a different style.
Austin: His French wasn't bad though. I actually wish they'd put in "Glorious" instead of this. It would fit in a lot more.
Steve: It was an interesting addition, but it made it feel even more like a collection of songs, rather than an album.
Mac: Yep, yet another one. First we go from a pop synth-based and a song with an awesome audience chant to "Resistance", and then we got the R'n'B thing going on. Then romantic piano, and some Queen thing. And there's "I Belong to You", then the awesome symphony.
Exogenesis (as a whole)
Austin: fantastic. not nearly the same effect when you listen to them out of order though
Steve: Yeah, and they could have been made one track to avoid that. It's odd how they put two sets of songs together and then split up this one.
Mac: I thought it was pretty good, but only the first song blows my mind continually.
Austin: Matt's vocals are almost a callback to "Microcuts" on that part.
Mac: Yeah, I love "Microcuts". I'd quite enjoy the song if much more of the lyrics were not really words, but I listen to Sigur Rós all day.
Austin: At least this track leads to a similar end to the album. It's epic.
Steve: I can see them playing these live with songs in between the parts as a medley. I'd love to hear that.
Mac: I'd like to see a lot of improvising too.
Austin: This whole track will be mind-blowing at stadiums.
Steve: Bellamy is a great improviser, I doubt he'd pass up the opportunity.
Final thoughts on the album as a whole: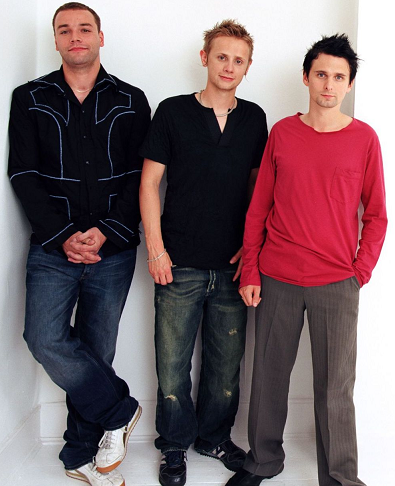 Mac:  Technically, it's quite good, but I don't really "feel" any of it… Except that one song, like I said.
Austin: Just a very strange order to the tracks.
Steve: How do think this album as a whole stacks up to their previous releases?
Mac: Horrible, but you know I already said that.
Austin: It sounds good. It has elements from all the other albums and combines them.
Mac: Only thing worse were all the Muse demos that never got on any albums. I wanted more of "Space Dementia" and "Hoodoo".
Steve: I think Black Holes blows this album away any day, but it's a decent release.
Mac: Definitely.
Austin: You have to remember, this was their first venture into self-producing.
Mac: I don't think that has anything to do with at all.
Austin: Of course it'll have it's hiccups.
Mac: Do you think the production itself had faults? It was probably the best I've seen from them.
Austin: It's just that they didn't have a professional producer. It lets them put exactly what they want without someone mucking it up. But no, I don't think the production was bad at all. It was good for being self-produced.
Steve: When there's a professional producer in the studio, there's always someone around to give a second opinion, I assume. A producer may have suggested more piano on a track, or a longer intro/outtro. The band only has so many critics before the album is finalized and released.
Austin: I'm just sad there won't be any B-sides for this album. Those tend to be some their better tracks.
Steve: B-sides would have been nice, yes.
Austin: Matt straight up said something along the lines of "We only recorded what's on the album. nothing else."
Steve: Hopefully they'll have a small recording session for an EP in the near future.
Austin: I doubt that. they usually wait about a year and a half to get back in the studio.
Mac: This album may have sold moderately well on the Muse name, but it was a flop.