Actually, it was written by Shane/Malkmusian.
Captain Beefheart: who in the hell is that man, anyhoo? Is he just the brainchild of abstract artist Don Van Vliet, who wanted to play free-form saxophone over disjointed blues-rock rehearsed under harsh conditions? Or is he his own entity, aging at an unhealthy rate from his chubby youthful demeanor of the Trout Mask Replica era to his middle-aged visage at the end of his career? To me, none of that matters; he's not even a student of Frank Zappa for that matter. To me, Captain Beefheart is Captain Beefheart, nothing else, not even the mentally-unwell man who made a masterpiece out of abstract poetry and the mature fanatic of David Lynch who made the aforementioned director star in his profile, "Some Yo-Yo Stuff", in 1994. Captain Beefheart is something different every album, even if his personalities are just derivatives of the straightforward alternative blues-rock in Safe as Milk. Yet, I should not focus on his well-known albums, much to the chagrin of every music critic in the business who compares his Reprise-era recordings to the jazz-punk of David "D." Boon's Minutemen. Instead, one of his bleakest and more radio-friendly albums, Ice Cream for Crow, is the focus.
The album starts off with the title track, which made a negative impression on me the first time I listened to it. At that time, I wanted to laugh more at Beefheart's antics than I did his musical prowess, so I dismissed the song as tepid cowpunk and discovered the alternative boogie of "Electricity", from his first album. However, subsequent listens made me realize that "Ice Cream…" was, in fact, a very Beefheartian song, containing abstract lyrics about Don's childhood and having a hypnotic slide guitar played by Gary Lucas to hook me in. I thought this would be the only shining track from the album until I went to the second track, "The Host, The Ghost, The Most Holy-O", which blew my mind that Beefheart could make his typical brand of psychotic blues-rock in a commercial style, more free than his Clear Spot recordings. The lyrics, which were about Don's re-imagining of Homer's Greek epic poetry, also intrigued me to listen to the song and go to the next track. What lay in store for me was shocking; "Semi-Multicolored Caucasian" was Captain Beefheart's greatest tune, yet his most readily-available, despite the off-tune ascending bass line that added more variety to the song. The fact that his growl and abstract poetry really helps the song, as it shows the band in full force.
I was disappointed when I heard "Hey, Garland, I Dig Your Fur Tweed Coat", which was more or less a typical Beefheart jam that was ultimately forgettable except for the lyrics, which kind of hinted at anthropomorphism and the furry movement to come. The next track, "Evening Bell", was just Garry noodling a Don-style piano piece on guitar, performing some amazing finger work yet not enough to save this track from the forgettable pile. However, "Cardboard Cutout Sundown", a perverted look at the Western through Sergio Leone's eyes, was a return to form, reminding me that Beefheart always shines out to overshadow his filler. As Side One ended, I switched my cassette tape to Side Two and, turning to my comrade Rudy, asked him if he had heard possibly my favorite song of all: "The Past Sure is Tense". He replied no, but smiled when it came on, as it was not only Beefheart in form, it was Beefheart at his most commercial. Forget about Tragic Band and Clear Spot. "Past…" is where it's at. It kind of disappointed me to hear the next tracks, ranging from Don talking about his used car ("Poop Hatch '81″) to comic tales about witch doctors ("The Witch Doctor Life"), as they could not shine up to the greatness of "Past…". However, "The Thousandth and Tenth Day of the Human Totem Pole", a song probably about human sacrifice in Native American tribes, pulled us back in and "Skeleton Makes Good", an Oriental-flavored Beefheartian jam, ended the album on a grand note.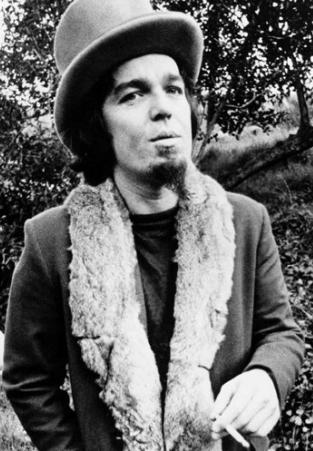 Despite pointing out its flaws and peaks, Ice Cream for Crow remains one of my favorite albums of all time, simply because it's not anything you'd expect for Beefheart. It's more cohesive than Trout Mask Replica; more commercial than Lick My Decals Off, Baby; more original than Bluejeans and Moonbeams; and more interesting than Shiny Beast/Bat Chain Puller. However, when compared to albums like Strictly Personal and Doc at the Radar Station, Ice Cream for Crow cannot hold much of a light to those albums. Why? Despite its peaks, Ice Cream… is riddled with filler, albeit interesting filler. It suffers from a lot of the problems of Chicago Transit Authority and Shiver, but it still pulls together through the more memorable tracks to make Beefheart's last stand to the music business his more victorious stand.
And where is Don now? Living off of paintings, (possibly) wheelchair-bound, and watching a DVD of Inland Empire on his TV in California. His wife was reported as owning her own business, signaling to us that he might not be so well-off as we thought he was. We also found a death file for a Donald G. Van Vliet (born 1940, died 2003) and also for his parents (Sue and Glen Alonzo, who died in 2007 and 1989, respectively), but is Don really dead? Is he? I'd like for him to reply to this and see that others are approving of his other albums other than Trout Mask Replica. Sure, he's not the greatest musician in the world, but he didn't need that. He had a dream and it came true: he became God of the music world. An underrated god, but still a god.