Now here is a record not many people have heard, not that that is neither a good or a bad thing. This record is much like Pink Floyd's "Atom Heart Mother" in the sense that the band refuses to acknowledge its existence. It was recorded when the band was less than a year old, and the sound is much different from their last 3 records that most of America is familiar with. It's not a bad record at all, all of the songs are catchy and enjoyable, with a sound similar to that of Jawbreaker, 7 Seconds, Face To Face, and early Samiam. A lot of fans criticize this album as "childish", but I don't see it.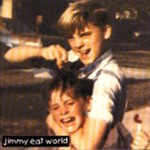 When I first heard this album I was blasted with the speedy power chords of "Chachi", and before the vocals started I thought I had put on the wrong album, but once Tom started screaming into the microphone I understood what I was in for. Yes kids, much like "Static Prevails", Tom Linton provides vocals on 10 of the 11 tracks here.
"Patches" is the second track, and it slows things down a bit, not much, but some. It has a nice little melody, slower guitar, and poetic lyrics, but speedy bass and drums to keep their punky edge as obvious as possible.
"Amphibious" is the third track, and the first one so far to really sound like a straight up punk rock song, with half-assed lyrics and very little emotion, but it sounds like a lot of fun to play as a band, so i can't blame them for putting it on the record.
"Splat out of Luck", track four, more punk rock. Really fast 4/4 palm mutes and fast drums, but lots of fun nonetheless.
"House Arrest" shows us a self loathing side of Tom, but also shows us that he's a bad ass guitar player. There are riffs in this song that show a side of this band the album had yet to introduce, begging you to listen on.
"Usery" is Jim Adkins' first and only song on this record, and sadly it's easily ignorable. It has the same speed, sound, and drum patterns as previous songs on the record and kinda goes in one ear and out the other.
"Wednesday" here's a tricky little devil of a song. It starts out as more speedy punk that is fun but unabsorbent to the memory, with a bitchin' little 1 string solo reminiscent of Leatherface. Then, about a minute or so in, it breaks down into beautiful arpeggios and a violin arrangement that makes you stop and listen, this lasts for only a matter of about 10 seconds and a dash of vocals before it picks right back up to moshing speed, for one big abrupt ending.
"Crooked" features sad lyrics over happy music, slower and poppier than most of the album, with a more indie rock edge, it also has a nice little break down where the drummer stops playing, leaving us with a neat little arpeggio played over a groovy bass line, probably the best part of the song. is it just me or is this album getting slower? Not by much, theres still lots of energy but these last songs seem to be reverse-crescendos if I may invent a term.
"Reason 346″ has a sound that I can't pin point, it sounds as if they layered an acoustic guitar track over this song but buried it back in the mix a bit. It may be that one guitar player is just playing through a clean channel with an acoustic-esque tone. This song is still full of energy but has a pretty drum and bass break down that leads into more pretty arpeggios and is probably the one song on the album most J.E.W. fans can relate to, it sounds a lot like the style they would become known for.
"Scientific" opens up with a very dirty and diminished chord progression, that leads in to some jazzy drums, very different from anything this album has touched on elsewhere, but its one hell of a song. The band really shows off their skills in this one, the intro being almost three minutes long before the vocals kick in, but then their drummer wants to be a punk again and everything gets fast. They keep up with the slow fast thing for a grand total of seven minutes, making this the longest song on the record, also one of the best guitar solos on the record, if not the best.
"Cars" is a nice little closer reminding you that the band, once again, really wants to be punk. With fun lyrics, probably the catchiest song on the record, I find it stuck in my head a lot, even months after listening to the record. After the song is over we get a fun little bit of studio banter where Jim and Tom play Van Halen riffs and laugh with each other.
All in all it is a very fun record, but there is a lot of nonsense and fun stuffed in it. If i had to rate it, it would be a 6/10, but I feel I enjoy it much more than the rating I give.
I can't see a real reason why this album was never re-printed, it's a great listen for fans of the band, but if your only understanding of this band are from records like Bleed American, Futures, or Chase This Light, this is probably not the album for you. You have to have a real deep seeded love of early 90s pop punk to appreciate this one, if not already a fan of the group. I can even be reminded of acts like Squirtgun, Screeching Weasel, and early (Kerplunk era) Green Day when I listen to this album, but it is still obviously Jimmy, just… faster.