I was honest-to-God shocked when I heard that the Kings of Leon, a garage rock band I first heard in 2005 with their minor hit "The Bucket" and saw them with their scraggly looks courtesy that of the latest fashion trends, scored a Billboard no. 1 hit with "Use Somebody", after making teenage girls swoon to "Sex on Fire". As usual, I stuck to listening to Chicago and Captain Beefheart until my musical interests began to go towards some critically-acclaimed recent music (as of 1994), so I decided to take a listen to a Kings of Leon album of my choice. Since I did not want to get into their newer, more poppy stuff (Only by the Night) nor their amateurish garage rock (Youth and Young Manhood), I settled on Aha Shake Heartbreak, the first album that really introduced me to the Kings of Leon. As with an album I listened to a couple of days before, Supergrass' I Should Coco, I thought this was going to be very tepid, trite pop-punk with a Dixie edge until the first song began playing. As with any album I perceive as a potentially-horrible album, I was blown away at how Kings of Leon were a different type of punk rock, mainly with a country edge.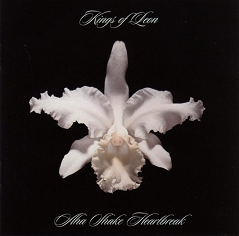 The songs, starting with "Slow Night, So Long", were all in that same vibe of Dixie pop-punk, but within the album, there were two acoustic ditties: "Milk" and "Day Old Blues". A different sound for the band, I was not used to something resembling "MTV Unplugged Featuring Four Brothers from Nashville", so I breezed through them, trying to find a hook in them but failing to do so. Despite that flaw, Aha Shake Heartbreak makes itself up with a sound that seems more like Lynyrd Skynyrd crashing into a blink-182 concert, complete with Prince's lyrics about sex. The highlights of the album are "King of the Rodeo", which serves as a guitar duel between Jared and Caleb Followill, and the swagger-heavy "Taper Jean Girl", which became the first Kings of Leon song nationally recognized through the 2007 film Disturbia.
The only thing, other than the acoustic ditties, I have to complain about are the repetition of the lyrics. At first, it seems like random mumbling from Caleb, but when taking a look at the lyrics, his mumbling turns into something a little less innocent. Most of the lyrics range from suicide ("The Bucket") to sex ("Taper Jean Girl", "Pistol of Fire", "Velvet Snow", etc.). Because Caleb Followill is not much of the lyricist type, most of his songs are either amateurish or about what rock music is mostly about. Such familiarity with a topic can make music seem like it is bland lyrically; most songs are about Caleb's penis (his "PISSTAWL OF FYE-UH") or having sex with a chick. It can only be compared to the shock that one gets when entering the 18+ fanart section at the Furthia High website. Is constant lyrical human intercourse always a good thing?
I know people are going to get pissed at me because I'm not promoting the Kings of Leon album with "Sex on Fire", but to be fair, I have not listened to Only by the Night yet. I have listened to the Kings' first two, yet I don't know if I want to venture into commercial territory. From my observations I can hear the Kings get progressively more bland every album they do, a result of commercializing and assimilating their sound into the alternative rock mainstream. However, they aren't the Dixie Coldplay. They're a throwback to the good old days of Heartland rock and bar bands playing covers horribly. They're the result of a painful family schism and assimilation into mainstream society. They're the result of torturing their cousin. The result is quite artistic and original.
I give this album my full approval, as it is a good mixture of songs despite the below-paw acoustic ditties and the constant yiffing of Caleb Followill. This album serves as a blueprint for later albums to come and ultimately led the Kings to gain a minor chart position with "The Bucket". How "Taper Jean Girl" failed to get on astounds me, but enough of that. The Kings of Leon thank this album for mainstreaming them into the alternative rock scene and I do too. I should have bought this album when I first heard it because it would stay with me due to the hooks. I wouldn't think too heavily of the sexual entendres, though; I wasn't too aware of colloquial terms for "penis" back then.